Lead Generation
Networking Your Way to Business Success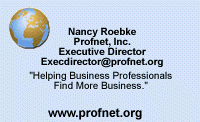 contact Nancy Roebke
Running a successful business used to be dependent on what you knew. Then, who you knew became important. In today's economy, it is far more critical to what you extent you know someone. So it's not what you know or who you know, but how well you know them that really determines the amount of business that can be generated by a contact.
Networking is the process of meeting people (also known as contacts), either through a contact that you initiate or through an introduction by a third party. Networking allows you to meet, and establish a relationship with, people who may not have heard of your business through any other means.
Like the name implies, this is work! It's not called Net-sit, Net-talk, or Net-eat. It's Net-work!! In order to make it productive for you, you need to learn proper way to do it. There are some important steps to follow for successful networking:

Pick Your Functions To Attend

Business people like to associate with other business people, so attend functions where these types of people will be. Pick those functions carefully. Make sure that the purpose of the function is to promote business and not just to socialize. Chambers of Commerce gatherings, trade shows, and networking organizations are excellent sources of business leads. The people who attend these are there for the same reason you are- to meet new people and to develop new business relationships. Social functions are fun and relaxing, but a person trying to do business or make contacts there could be very disappointed.

Be Prepared

Dress appropriately- you are a representation of the type of work that you do. First impression advertising can make you the most money or be the most expensive advertising you will ever invest in if it causes you to lose business.
Always have a supply of business cards on you at all times. I know a man who met a prospective client from a large company while swimming in a pool in a hotel in Hawaii, while on vacation. He landed an account with the firm when he produced a business card (laminated of course), from his swimming trunks.

Make a Good Presentation

Remember that you know more about your business than your prospective client needs to on a first meeting. Save the details of your product or service for a second meeting unless specifically asked about them by the prospect. If you overwhelm them with information, you may never have chance to determine how you can help them with a problem they may have. The key to successful businesses is in solving problems for clients in a fair, efficient and cost effective way.

Mining for Referrals

All-important referrals come from happy clients. A referral from a client is a reflection of their judgment as well as a compliment to you and your product or service. Be sure to send out "thank You" cards to people who refer you business. Thank them for the opportunity to service their acquaintance and to perhaps help them in the future, as well.
Being loyal to those in your networking circle, through the sharing of business referrals, suppliers, and industry information, you build strong, mutually-beneficial business relationships. THOSE lead to business referrals
Networking is done at any time of day- morning , noon and night. One of the nicest benefits is the friendships you can make while pursuing common goals.
---
---
Copyright ©1996-2006 Profnet, Inc. All rights reserved.
Using the information at this site and linked to this site is done at your own risk.
No promises or guarantees of any kind are intended or implied.